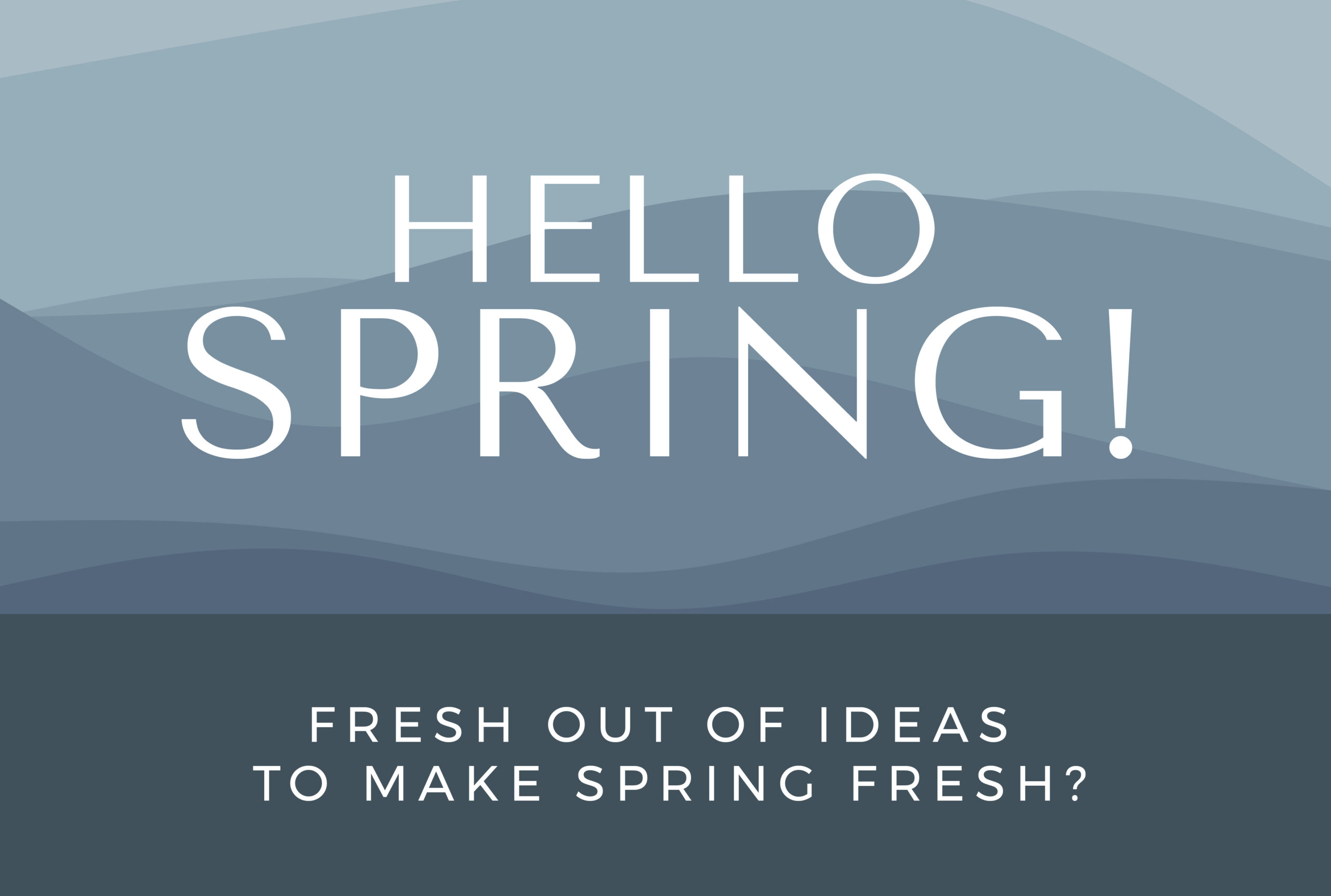 Fresh Out of Ideas to Make Spring Fresh?
Spring is a season of renewal and recharging, and this year we need that breath of fresh air more than ever. Whether you have kids at home for Spring Break or you simply want to treat yourself to a reprieve from the ordinary, here are 6 bright spots you can add to your calendar without breaking the bank or needing to break out your passport.
1. NOT so Extreme Porch Makeover
Spend a morning or afternoon enjoying the crisp weather while you give your patio or porch a little love. Meet a friend for some thrifting, shopping and a coffee and find that perfect piece to inspire your refresh. Shop your home for the rest of the details, and get to work! A before and after photo or a Timelapse video (try out Hyperlapse to easily sync with your Instagram account) will keep you going though the not so pleasant parts (cleaning, we're looking at you). Listen to a favorite podcast or an audiobook to help the time fly by, and reward your efforts with coffee in your new favorite spot the next day.
2. Roll Down the Windows Down and Cruise
Make a playlist, find a new one, or listen to an old favorite and go for a drive to a state park. Roll the windows down and take in the scenic views while you escape your own backyard to enjoy the best of what your state has to offer. Consider checking out a new park or driving a different route and treat yourself to some good old-fashioned road trip snacking. If it's about the journey, and the destination, play a tourist in your own state by looking to websites like Trip Advisor and All Trails or polling friends on Facebook for tried and true favorites from the best trails to the best diners.
3. Escape the Mundane with a Yes Day
If you've found yourself sounding more and more like your mother lately (and, not in her finest hour), it may be time to give your family and yourself the day off by having a Yes Day. Take your lead from Amy Krouse Rosenthal's darling children's book, Yes Day! or do some 'research' by watching the new Netflix release Yes Day starring Jennifer Garner, an early adopter of the Yes Day approach with her own family for years, based on Rosenthal's book. Find some great ideas about how to have your very own yes day, sooner than later, here. As Garner mentions in this podcast interview, you may be surprised by the simple yes's your family has been craving & you may want to brace yourself for some adventure (eh hem, chaos) along the way.
4. Virtual Vacation
If your spring weather (or the pandemic) has you home and inside instead of grabbing your passport, you can still activate your wanderlust by taking a virtual field trip. Bring out your own inner child by watching the sea otters play on the Monterey Bay Aquarium camera, rubbing shoulders with the royals at Buckingham Palace, or enjoying good weather vicariously at the Great Barrier Reef. Whatever trip you choose to take from your own home, make it special by setting the scene with themed food, music, or an activity.
5. Seize the Day with a Sunrise or a Sunset
"You know, when one is that sad, one can get to love the sunset." –Antoine de Saint-Exupéry, The Little Prince
Take advantage of internal clocks that have yet to catch-up to Daylight Savings Time (more coffee anyone?) by planning a date to take in the sunrise or the sunset from a favorite spot. Make it extra special and cozy by setting up the back of the car with blankets, pillows, and even a strand of fairy lights. Don't forget the coffee and bagels to welcome the day, or a favorite dessert to say good night.
6. Brighten Up the Neighborhood
"You can't use up creativity. The more you use, the more you have." –Maya Angelou
While you get to work on your porch or patio, keep your kids busy with some chalk art or window art to bring a little sunshine to your neighborhood. There's a reason chalk art like this was making a splash across the internet last spring: it's easy, leaves your kids feeling like true artists, and is sure to bring a smile to faces of passersby. Get creative and take it to the fence for serious staying power. Or, if your spring weather is unpredictable and you want your art to last, consider doing some window art instead. Grab some painter's tape and chalk and head outside, or grab some painter's tape, some chalk markers or window paint markers, or make your own paint following recipe, chalk and bring out your child's inner artist.