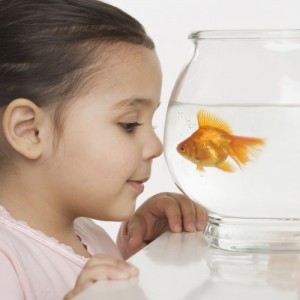 Yes, you can!  Fatty brain foods help developing brains, baby brains, adolescent brains and aging brains.  I'm talking about Omega 3 fatty acids primarily from cold-water fish such as tuna and salmon or fish oils.  And the specific Omega 3 fatty acid that improves brain development, cognitive function (higher test scores), visual acuity, as well as improving ADD in some school children, is DHA.  Unfortunately, western diets are far too low in Omega 3s.  While our diets are typically full of Omega 6s found in oils like salad dressings (think olive oil), prepared foods and corn oil, Omega 3s are harder to come by without supplementation.
If you have a child age 2 years or younger, his/her brain is growing rapidly, using more than 50% his/her calories for brain growth.  The needed building blocks for proper brain development in the womb and early on in life are imperative for optimal brain function.  Fats make up 60% of our brains and nervous systems.  A diet low in Omega 3s has been shown to lead to a smaller brain, a higher chance of MS (multiple sclerosis) and degenerative diseases, lower IQ scores and a higher risk of vision problems.
Adolescents also benefit from a diet rich in Omega 3s.  Their brains may not be growing rapidly but neural connections are still being formed – and lots of them. Omega 3 fatty acids may actually act as neurotransmitters for these connections, so these fatty acids are extremely important for the ongoing optimal health of our teens and their development of world-changing ideas (and, of course, our teens are smarter than us…just ask them and they will happily remind you).  Furthermore, teens are often either consuming the wrong fats with fast food or cutting out almost all fats (even the good ones) to optimize their appearances, whether due to a culture hyper-focused on physical appearance  or a heightened focus on eating more protein to improve athletic performance.
So, how do you add Omega 3s to your infants', toddlers', tweens' and teens' diets (and your diet, while we are on this subject, to minimize age-related memory loss along with helping control chronic inflammation, which causes heart disease, arthritis & degenerative disease)?  It's not too complicated, really; we just need to eat more fatty fish and/or find high quality fish oil supplements that don't give us disgusting "fish burps" and are actually palatable.  Look for fish oils that have (at a minimum) about 1000mg of EPA and DHA Omega 3 fatty acids combined per adult serving.  And remember to check the ingredient list so you aren't duped into buying a product (and there are many) that claims over 1000mg of fish oil, but actually has far less EPA and DHA than 1000mg total per adult serving.
Admittedly, many of the fish oil supplements do taste fishy.  Yuck!  But there are a couple of products out there that are truly delicious (no, I'm not joking, just ask the young ones in my family and my husband).  Additionally, a quality fish oil supplement will have removed toxins such as mercury found in our fish these days from environmental contamination, so those of you who are pregnant can partake in the fish oil fest without concern.  Food sources high in Omega 3s include halibut, herring, salmon, tuna, trout, oysters, sardines and halibut.  Flaxseed and walnut oil also contain Omega 3s.  If you are pregnant or breastfeeding, your child receives her Omega 3s from your own personal intake.  Aren't our bodies and their abilities pretty amazing?  We truly are what we eat, especially in the case of our beautiful brains!